The Ancient Tradition of Labyrinth Catharsis
Walking the Labyrinth- the ancient tradition of the labyrinth catharsis – one way in and one way out.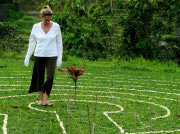 Everyone has a path to Divine Source which grows and changes and yet remains still. When we stop talking for a while, the pathways to light and love seem to be grow clearer and stronger and more obvious. The Labyrinth Walking Mediation at Bali Silent Retreat is a chance to connect within, to ask questions and receive answers. A very simple ancient practice that holds great power. Set your intention, walk slowly aware of your breath, be grateful, and observe the results. Repeat daily.
Other functions of walking the labyrinth are to solve a problem, get resolution to confusion, find a fresh perspective, or just relax and enjoy the sounds of nature while walking slowly and pondering life's greater mysteries.
Labyrinths date back 4000 years and are located all over the world, including Africa, South America, India, Europe, Indonesia, Egypt and North America and are found in just about every major religious tradition in the world. Like Stonehenge and the pyramids, they are magical geometric forms that define sacred space. Traditional designs are three basic sizes-7 circuits, 11 circuits, and 12 circuits. Our labyrinth is small-7 circuits.
A labyrinth and a maze are NOT the same. A maze has dead ends and trick turns. A labyrinth has only one path leading to the center and back out again. There are no dead ends.
When you walk a labyrinth, you meander back and forth, turning 180 degrees each time you enter a different circuit. As you shift your direction you also shift your awareness from right brain to left brain. This is one of the reasons the labyrinth can induce receptive states of consciousness.
Each person's walk is a personal experience.
How one walks and what one receives differs with each walk.
Many develop a personal ritual that supports a spiritual path.
The time in the center can be used for receiving, reflecting, meditating, or praying, as well as discovering sacred inner space.
What each person receives can be integrated on the walk out.
Your walk can be a healing and sometimes very profound experience or it can be just a pleasant walk.
Each time; each walk is different.
We just happen to have a Labyrinth at Bali Silent Retreat. (It's the only labyrinth is Indonesia. There are also labyrinths in Burma and Thailand). It's a 7 ring version, on grass, and takes about 20 minutes to walk in and out. It was created by Amit Janco, a dedicated volunteer who braved her first labyrinth at Bali Silent Retreat. We think it's probably her best!
https://www.balisilentretreat.com/wp-content/uploads/2014/07/bali-silent-retreat-amit-labyrinth-from-side.jpg
400
800
balisilent
https://www.balisilentretreat.com/wp-content/uploads/2017/02/bali-silent-retreat-logo-1.png
balisilent
2014-07-23 14:20:35
2017-04-10 08:43:29
The Ancient Tradition of Labyrinth Catharsis