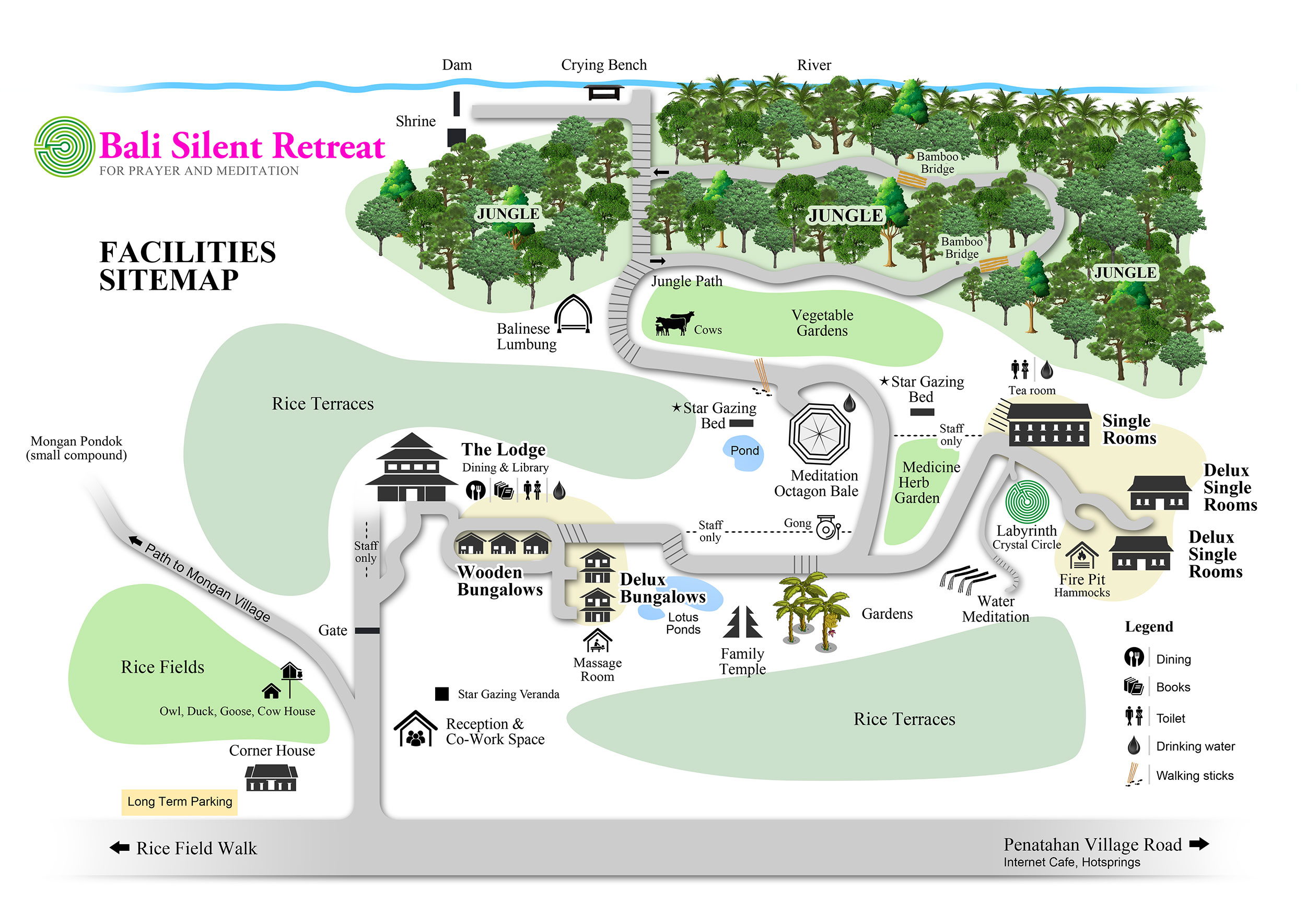 1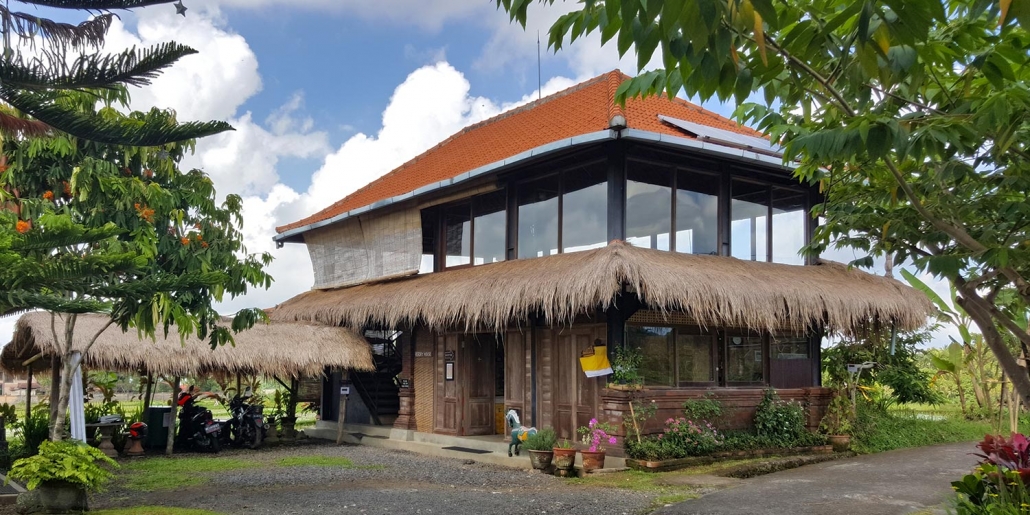 CO Work Space & History House. Here you can talk freely when you need it.
2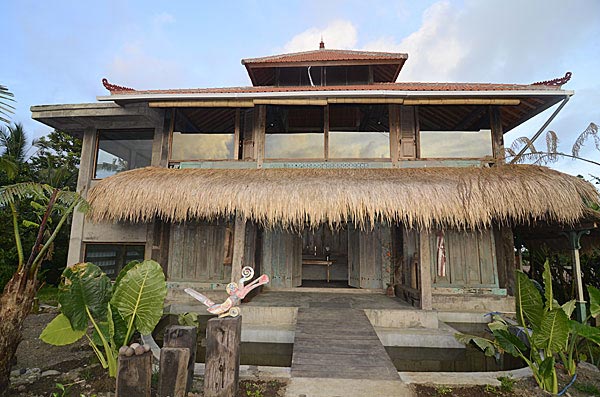 Lodge
Level 2: delicious food for breakfast, lunch, dinner and snacks & tea all day
Level 3: library, eating, relaxing
NOTE: no phone or computer allowed here. Best chat area near reception.
3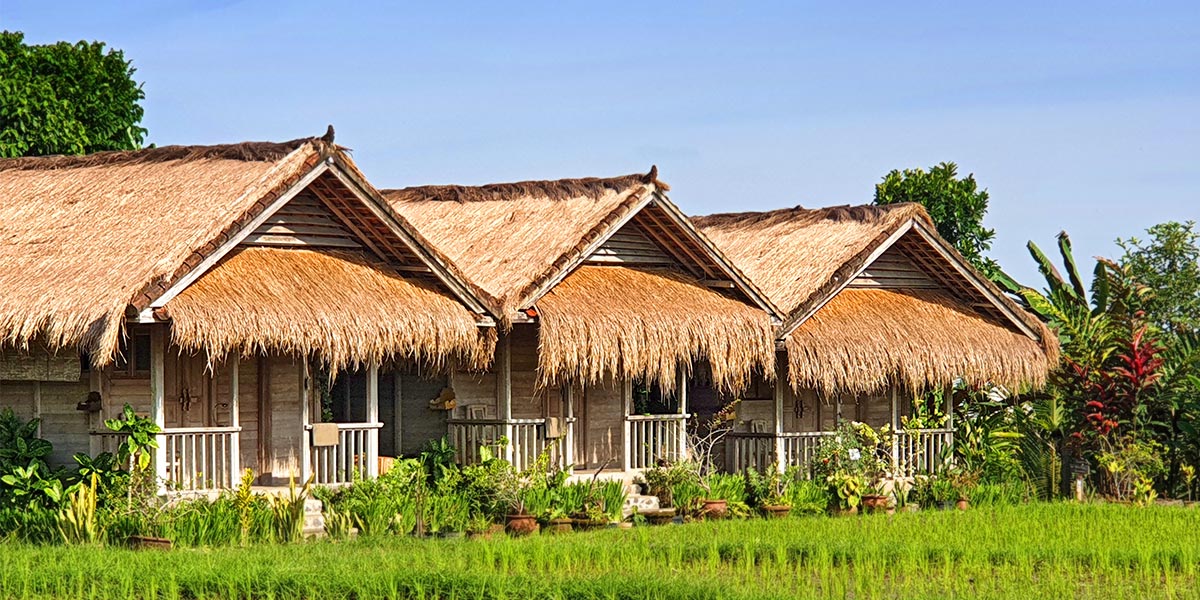 Wooden Bungalows
4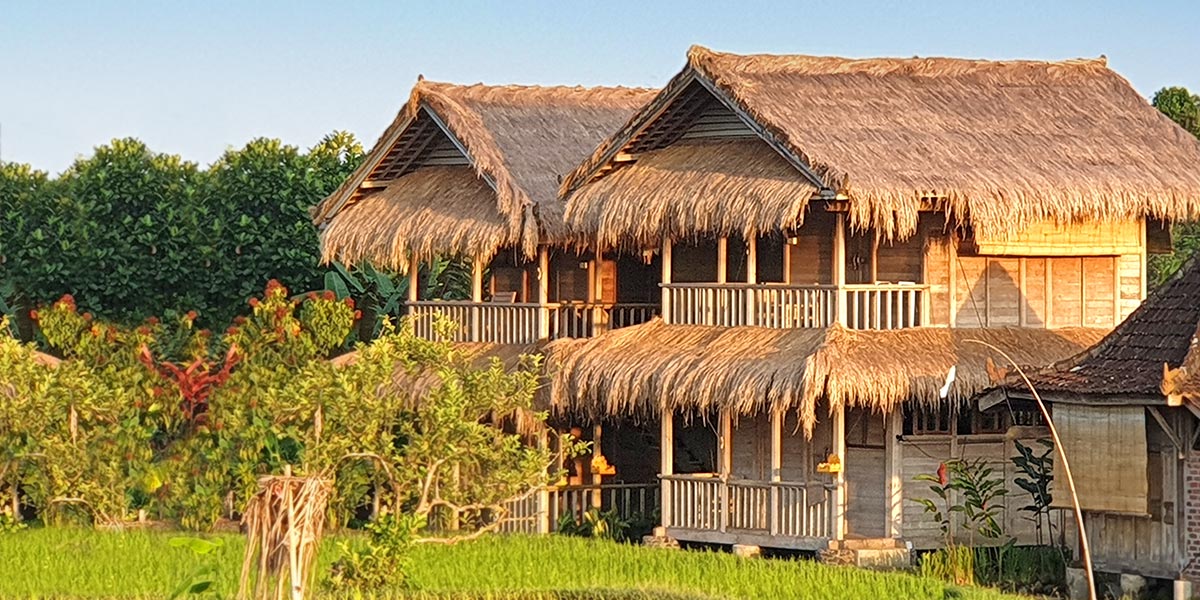 Delux Bungalows
5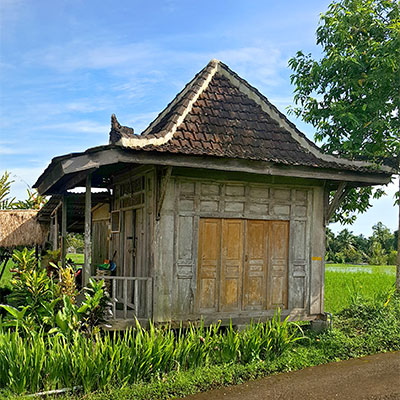 Massage Room
6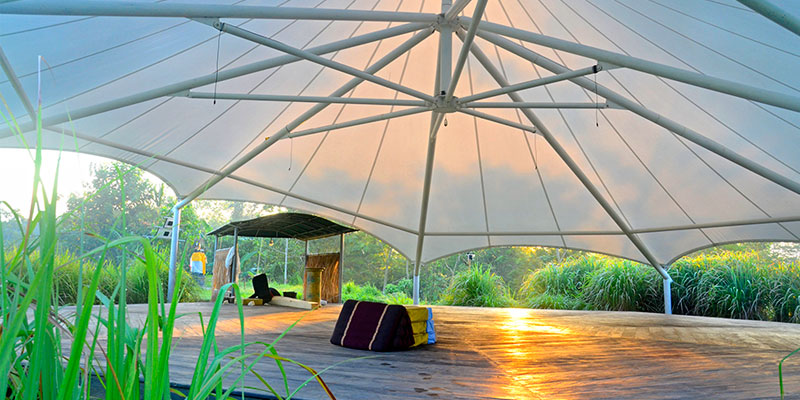 Octagon with white tent for movement and meditation
7

The jungle walk path is maintained by the garden crew so you can experience the jungle without much concern. Take a stick for spider webs. Walk with strong steps to let critters know you're coming. Keep your eyes open and enjoy the wilds.
8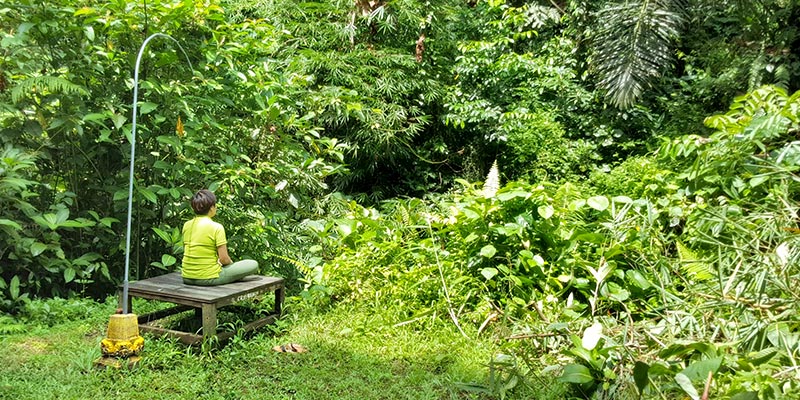 The Cry Bench is a private riverside space that you can retreat to whenever you need to release your emotions.
9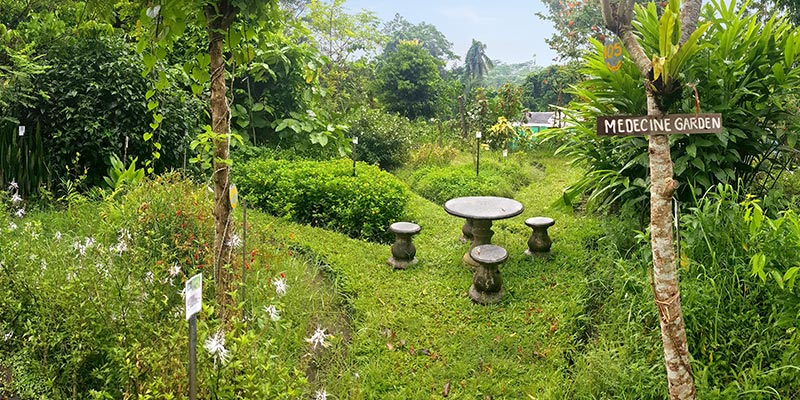 Medicine Garden contains a variety of locally found medicine herbs. Each plant has a sign with its name in English, Latin, Balinese and Indonesian and describes the plant and its uses.
10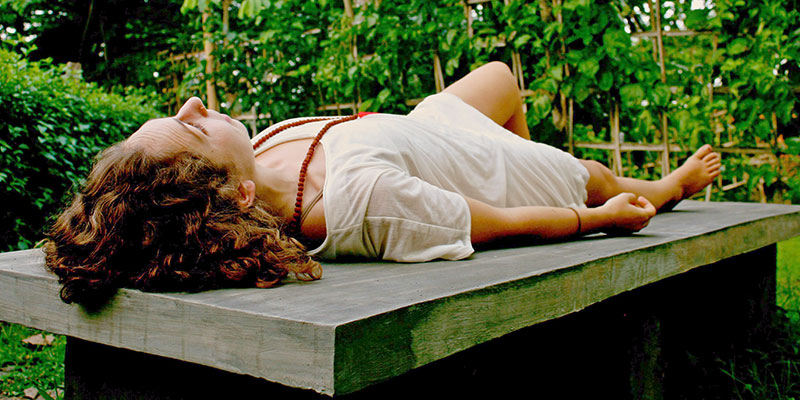 Star Gazing Beds
11
Tea Room – fresh herbs (because these rooms are far from Lodge)
12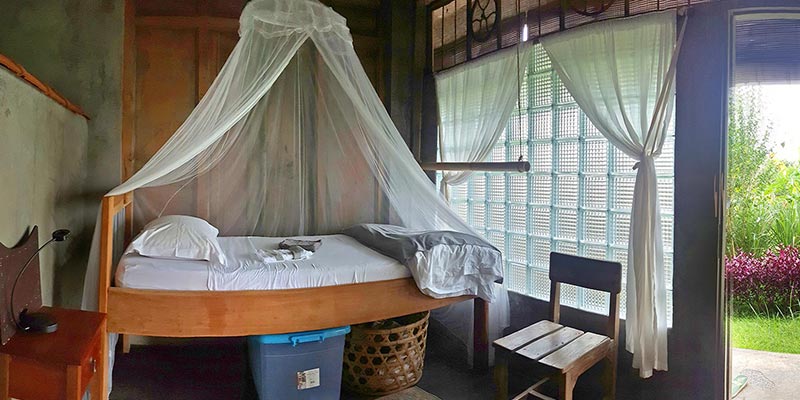 Single Rooms – upper and ground level.
13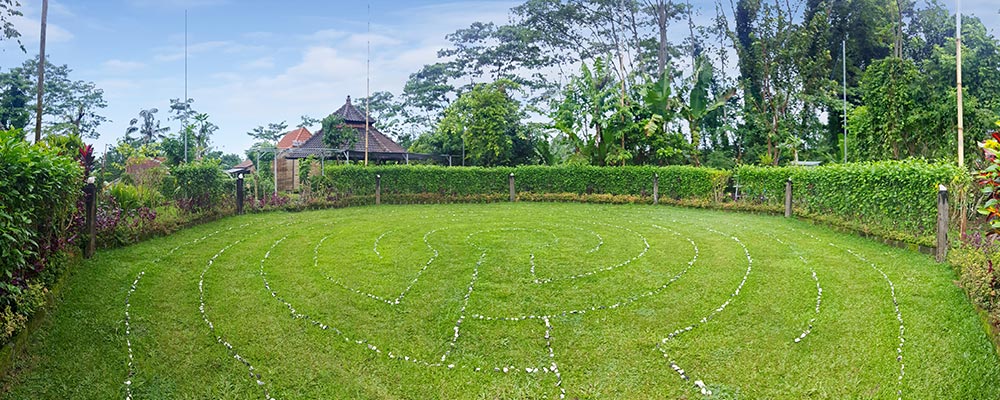 The labyrinth for walking meditation: set your intention, walk slowly aware of your breath, be grateful, observe the results. Repeat daily.
14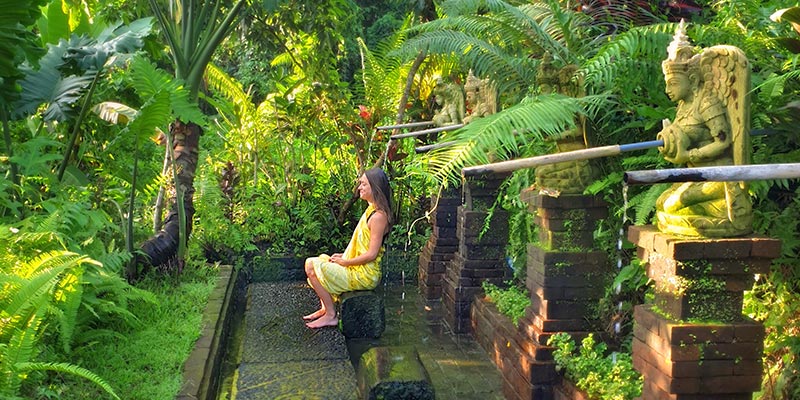 Water Meditation from Temple Holy Water. (Sarongs available so you can cover your swim suit during meditation. Return to the drying rack for next visitor.)
15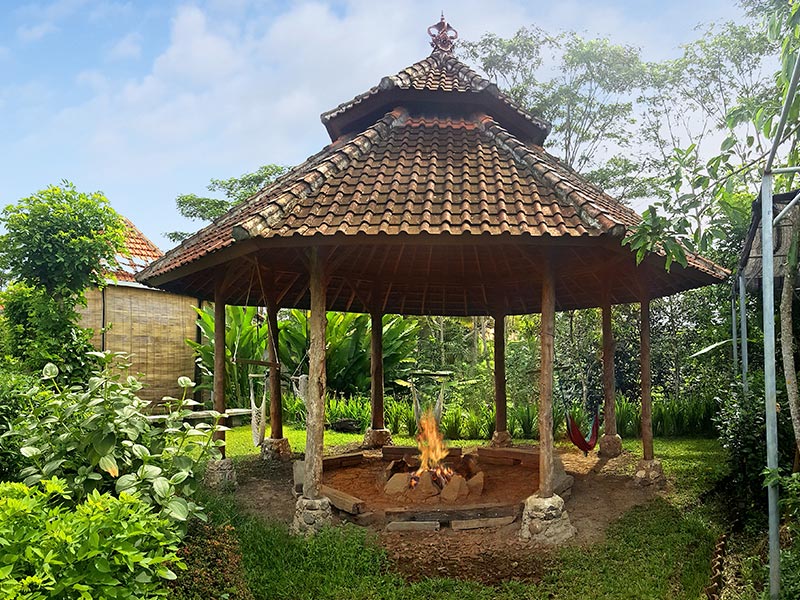 Fire pit with hammocks for relaxation and nightly fire circle.
16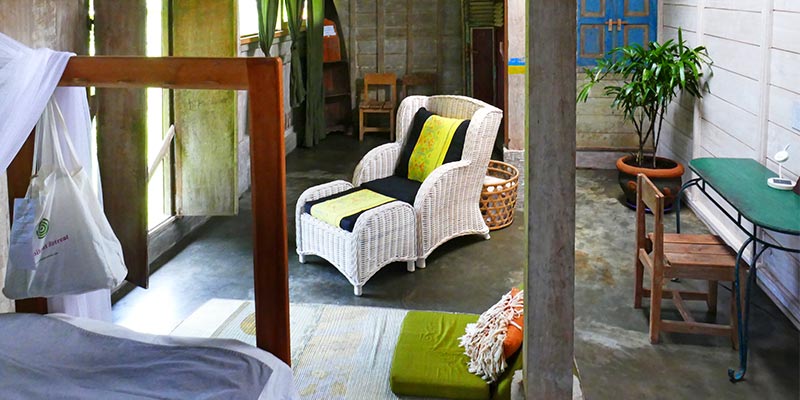 Delux Single Rooms
17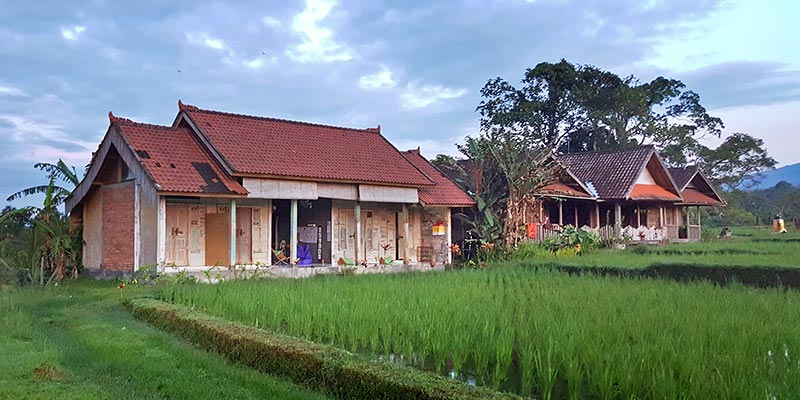 Corner house and Sukawati house.
18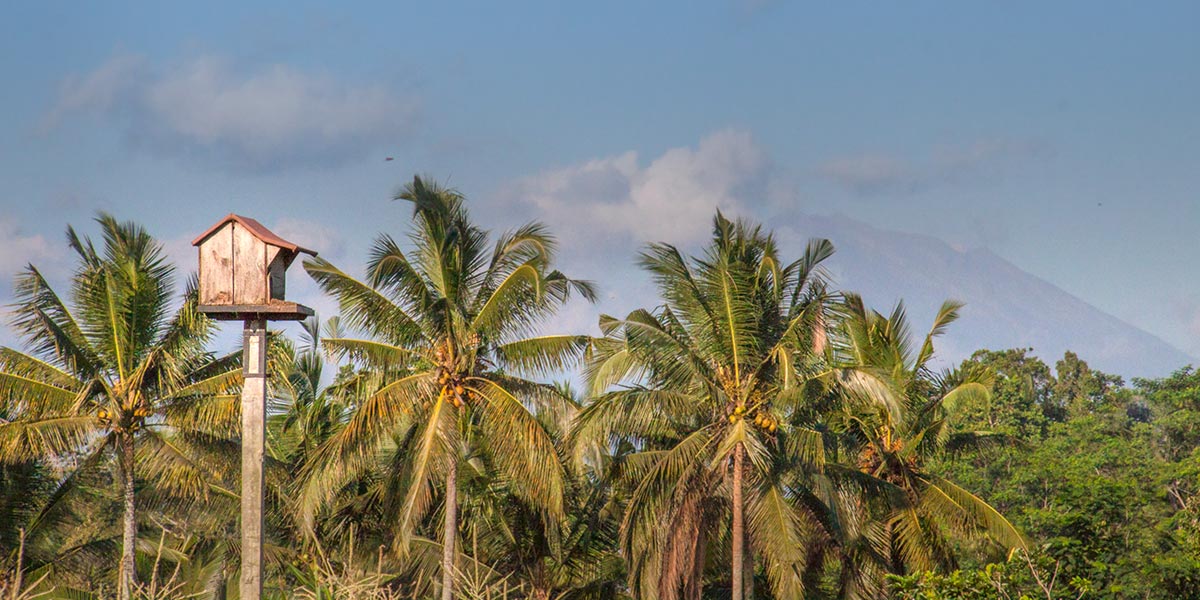 Owl, Duck, Goose, Cow House.
19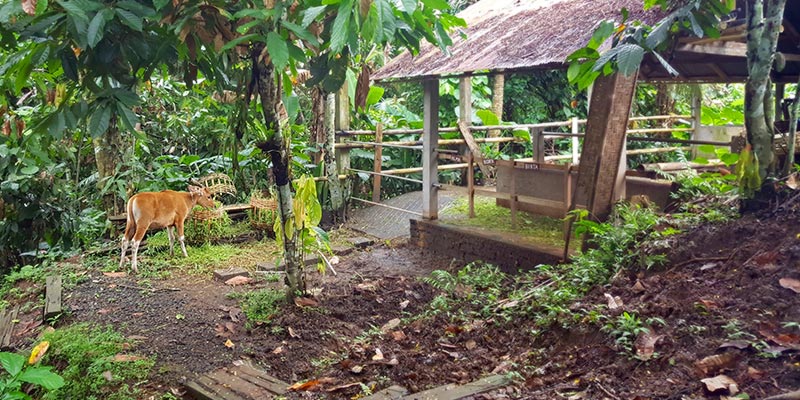 Cows.
20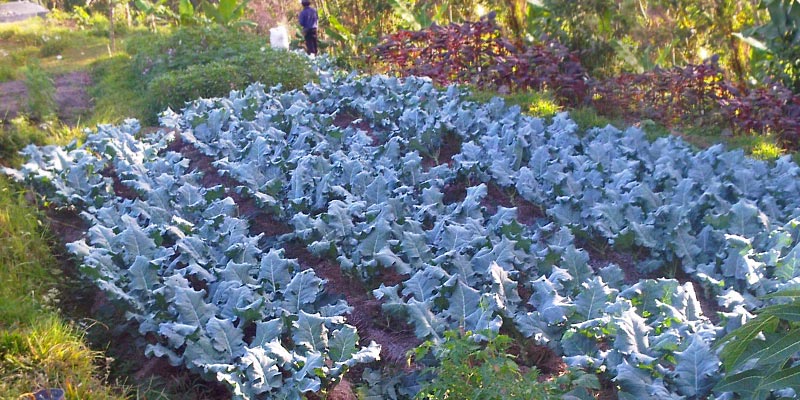 Vegetable Garden
21

A bamboo bridge with living fence crosses a ravine.
From the Lodge: Spectacular 360 degree view of rice fields and mountains.
Garden To Table organic live food is fresh daily with 3 vegetarian buffets and fresh baked treats, fruits, and fresh garden herbal teas to graze on all day.
We're off the grid, with solar electricity, and green-to-the-extreme sustainable systems.
I came here to unplug and recharge/relax. I've done that and more. You've thoughtfully put together organic farming + a rich environment for self reflection + mindfulness all wrapped with a comfy bed, divine food containing uplifted spiritual energy. Loved it.
— Lee Ann, American, living in Bali
In addition to all the amazing programs, the most important thing to do is:
Nothing
Breathe, Meditate,
Read, Pray,
Connect with your Divine Source
Eat, slowly and often
Walk the rice terrace path
Walk the labyrinth meditation
Walk the gardens
Walk the jungle path
Watch
Walk to the hot springs
Sleep without air con (it's cool at night)
Stare at the stars from our star beds
Write (paper and pen)
CLOTHES: Bring a few changes of comfy clothes, suitable for movement & meditation, walking. Pack for hot (days) and cool (nights) and rainy weather (anytime).   Warm jacket – it gets chilly when the sun sets. Poncho for afternoon rains.  Rubber flip flop sandals (easy to kick-off and slip-on, when going in and out of buildings).
TEMPERATURE: Every bed has a warm blanket. Temperatures range from 35°C (95°F) in the day and sometimes down to 20°C (68°F) at night. Rainy season is November to April, with occasional  intense rain and wind.
MEDs & TOILETRIES* – Bring your own toiletries. We only provide natural  mosquito repellent and soap for body & hair (NO special amenities: hair products, toothbrushes, toothpaste, sanitary products, etc.) *However we have a 'Garbage In; Garbage Out' policy for non-compost-able items. We're committed to Green to the Extreme principles which limits garbage products to be compostable or recyclable.  Please do not leave your non-recyclables with us. (toothpaste tubes, or cosmetic tubes, or razors, or shampoos or other such items, as modern society has adapted to need.)  Take it with you when you checkout.    
RECHARGABLE GADGETS: Please note that we are on solar power and there are no outlets in the rooms to plug in hair dryers, etc. The Office Angels can recharge your phone or laptop for a small fee.
Do NOT bring food. We are in the middle of rice fields and the cute little mice think it's party time when they smell food. They will chew right through your luggage.
Lock Boxes are available to safely store your money and valuables. Please note, our guest rooms are only lockable from the inside. The staff does Not enter your room unless you request such.
Food cabinet in Lodge: any food you bring must be properly placed in the food cabinet to prevent causing interest from nature's friends.  A small refrigerator is at the office for medicines needing to be kept cool.
5.Visa and Passport Guidelines
The current requirements can change any time. (links below for future updated info). Before Covid, 'Visa On Arrival' was available — during Covid it was stopped. Currently it is available ( yippeeee)
PASSPORTS: To enter Indonesia there must be 6months left before expiration.
VACCINE REQUIREMENT by Indonesia: 2 vaccines & booster with proof of such. Welcome back to Bali website seems to have accurate and easy to find info for vaccines and visas. We don't require any vaccine documentation.
TRAVEL INSURANCE: There's talk of requiring Travel Insurance. We strongly recommend it, whether it's required or not. Most airlines offer it and it's usually very reasonable price ( considering what costs might incur if you fall off a motorbike; or trip and fall anywhere. This is a 3rd world environment; let's be practical.)
We recommend the following sources of information:
Upon arrival, check in at reception, watch an orientation video, take a look at the site map (6 hectares), and take an orientation tour with one of our Office Angels.
Please arrive BEFORE 4:00pm. CHECK-IN AND ORIENTATION TAKES ABOUT AN HOUR. The office closes at 5:30. See more about this on the Location and Transport page.
As most hotels, our CHECK-IN time is 1 pm. Check-out time is 11 am, but often people linger a bit later. Check-in early is also possible,  until your room is ready. (just inform the office angels, and make a donation for any classes and/or meal.
Register with the Office Angels (copy of passport, required by law) and pay any outstanding balances. We accept CASH (USD or IDR) or Credit Card. (NO DEBIT CARDS)
Currency exchange rates are checked daily and we give you a slightly better rate than money exchangers on the street.
Make sure your ATM and credit card banks know you will be traveling to Indonesia so you can use your cards without having them blocked.
You will receive:
A map and orientation brochure.
Your lock-box key
Linens, kimono, sarong and your own personal set of dishes and cutlery. In typical ashram style, you make your own bed and wash your dishes during your stay.
Privacy is designed by you: no one will approach you to ask anything, no restaurant staff to ask your order, no cleaning staff unless you request such, and no one asking what you want to do today. 
The DAY BEFORE CHECKOUT – any additional charges (massages,  laundry, gift shop, etc) will be calculated for payment (cash or credit card).
Your transport plans will be confirmed.
If you need to check out earlier than your full booking dates, a one night penalty fee (room only) will be deducted from your refund amount as we frequently turn guests away because we are sold out. Please be sincere about your booking dates.
7.Wi-Fi
Connecting "TO THE WORLD"
INTERNET:
We are a DEVICE FREE VENUE.
However, there is a co-work space, near the office, with a Fiber Optic Land Line & a Wi-Fi router of limited range.
The co-work space is pleasant with cool breezes and views of the mountains.
This is a rare opportunity to unplug, disconnect, and have a digital detox.
We recommend  putting the phone in your lock box, and disconnect.
9.Silence, Quiet, Talking
We support the personal spiritual journey of each person at Bali Silent Retreat. Silence allows for solitude and restful contemplation within a social environment.
SILENCE (What does it mean?):
If you have a question, ask any staff at any time.
If you wish to converse with other guests please do so in the Chat Zone (near reception) or head off-site (hot springs, rice field walk, etc).
Quiet

vs

Silence: Silent does not always mean quiet! Frogs at night form a joyful chorus, ceremonies in the nearby villages involve music and chanting and during cremation season there are chainsaws cutting trees for the funeral pyres. We apologize in advance for these auditory invasions and give thanks for your patience.
We are not vipassana, not a religious supported ashram, no guru, no dogma.
Behaviour: Bali Silent Retreat expects all guests to:
Comply with the health and safety measures set forth.
Conduct themselves appropriately with respect for property, staff, hours of operation, and classes.
Respect the silence and solitude of other guests.
Not to disturb the enjoyment and pleasure of other guests nor cause any offense to other guests or staff members.
We reserve the right to refuse service or accommodation or remove a guest from the property if, in our opinion, we consider the above guidelines to be non-compliant. In such case there is no obligation to refund the guest.
Linens:  At the beginning of each week, you can collect a new bag of 'set-up'  items (sheets, kimono, towels, etc). However, if you need a change at any time, tell the Office Angels and we'll be happy to replace whatever you need with a clean version.
Laundry for personal items is available and takes 1-2 days, depending on wet or dry season.
Rooms are generally cleaned by each guest, so as not to have staff going in and out of personal space (supplies provided). However, staff can clean your room anytime – just ask and a smiling Balinese will show up with brooms and brushes.
Dishes are washed at the lodge by each guest.
10.Critters-Insects-Mosquitos
WEATHER: rainy season November-April, and sometimes intense rain & wind. Temperatures range from 35°C (95°F) in the day (hot & humid), down to 20°C (68°F) at night (cool; all rooms have blanket).
MOSQUITOES: every bed has a mosquito net, although most of the time it's not needed. Every guest receives a small bottle of natural citronella mosquito lotion. There is no malaria nor dengue fever here in the countryside.
CRITTERS: occasionally frogs, lizards, mice hop/scurry outside. Snakes like to eat them, (no poisonous snakes here). No food in room=no mice=no snakes.
11.Medical Needs Wheelchair Access
Medical Aftercare Recovery
As for healing from illness or special recovery, we don't have medical staff on site to support such. However, numerous guests have rested and restored at Bali Silent Retreat for 1-2 months, with miraculous results. They arrive looking half dead and depart with a healthy glow. It's amazing what clean air, clean food, clean water, and clean energy will do for a person.
Apologies, our buildings and access are not wheelchair friendly nor advised for anyone who is walking impaired or on crutches. There are no ramps. There are many stairs. Walking in general, needs to be quite 'mindful', as most of the walk-ways are on elevated individual concrete/rock blocks or railroad ties.