Food at Bali Silent Retreat is an energetic awakening experience. The human diet has changed drastically during our life time. You are invited to reconnect to your body's true wants and needs and encouraged to savour each bite in silent mindful eating, overlooking the surrounding rice fields and holy mountains, transforming your relationship with food, clean air and clean water.
We offer food straight from the earth; our organic gardens and forests and locally sourced in Bali.  Fresh and lovingly prepared by a team of chefs, trained to the high standards of our 'Bumi Baru-New Earth Cooking food philosophy', our food is famous for its unique flavour combinations and nourishing qualities. Healthy and yummy, organic and sustainable, Bumi Baru also aligns us to the entire web of life.
The food – OMG!!! I've dined in Michelin starred restaurants that were a joke compared to this culinary taste sensation, LOVED it!!!
Best food I've ever had . . . ever – dangerously delicious!
My pallet is inspired and my eyes have opened to what can be done in the kitchen.
I did NOT miss meat for 1 minute. Food is fantastic!
This food is the best vegetarian food I've ever had. Usually my body and mind crave meat after not having it for a couple of days. But now, when I'm about to leave, I only want more of this delicious food I've been eating.
A typical day menu sampling of our 'living food'
Eggs – local rice field ducks
Rice porridge- raisins, vanilla, mint
Homegrown banana pancakes
Fruit & nut bread
Spanish Potato Omelet
Grilled vine tomatoes
Sourdough bread
Fresh picked fruits
Homemade coconut yogurt
A light midday feast to nourish your body. We offer a wide range of super fresh, chopped, un-dressed ingredients for you to create your own perfect salad.
Grab a salad shaker and fill it with foraged wild herbs and greens, grated root vegetables, chopped shoots, leaves and sprouts.
Add a dressing of choice & shake!
Add protein options: pulled young jack fruit, soft boiled duck egg, mung bean fritters.
Top with crunchy goodies like our coconut sprinkle, local nut and seed mix of cassava chips.
Veggie garden minestrone
Moroccan tomato and pumpkin swirls
Local long beans & potato salad
Homemade duck egg noodles with spinach and coconut sauce
Eggplant chips with babaganoush dip
Nasi Kuning. Yellow turmeric and lime infused heritage rice
Young Papaya salad with kaffir lime dressing
Beetroot and turmeric sorbet slice
Our Chef embraces an inspiring and sustainable food philosophy he calls BumiBaru (New Earth). New Earth Cooking considers the long-term environmental and social implications of our daily food choices. What, where and how we choose to eat each day affects the intricate web of life, of which humanity is only a small part.
His vision for food is solution-minded, acknowledging global warming, chronic disease and the increasing decline of the health of our planet. On the deepest level, it offers a gateway to an evolutionary shift in human consciousness on our planet today, beginning with our personal commitments and community.
We treat our food sources (tree, plant or person) with the utmost care and respect, allowing loving kindness to ripple throughout the entire cycle of our food; from infusing our soil with love, to paying fair prices to farmers, buying only local-on-island products, and pouring joy and love into every dish.
BumiBaru is an invitation to go beyond your mind to a place where you know exactly what's best for you and therefore what's best for the entire planet and all the life it sustains.
We never use ingredients known to be harmful such as refined sugar, processed oils or genetically modified ingredients. We operate a vegetarian kitchen that offers you raw food, slow food, vegan, organic-home-grown food, and most of all, downright delicious food to be mindfully and joyfully savoured during your stay.
We invite you to consider eating as a mindfulness practice, bringing presence and awareness into each bite. Select your food consciously. Perhaps start with small portions and return to the buffet as often as you like.
We
Try to practice sustainability more often than 'talking it'.
Value age old Balinese tradition as well as Western techniques, as long as mother earth agrees.
Avoid all chemicals in both kitchen and garden, simply because we believe we don't need them. The rich volcanic soil and the care of our garden crew ensure the most vibrant vegetables bouncing around.
Stand on 'No refined sugar'! Claim only local sugar from our palm trees to sweeten up the day.
Offer a balance of raw and cooked, sweet and sour, light and vibrant, rich and comforting.
Harvest veggies and fruits several times a day with a triple wash cycle.
Infuse the most sincere love and a few giggles into the dishes.
The ultimate measure of our efforts is the way Bali Silent Retreat guests feel during and after spending time at our retreat. Perhaps read the the guest comments on the 'Guest Comments' page and then immerse yourself in a completely new way of eating.
ALERT: no caffeine here, sorry.
SPECIAL DIETS AND ALLERGIES:
All of our food is vegetarian. No meat or fish products are used.
No dairy is used in any of our food.
Most of our food is vegan. No animal products are used. The only exception is free range, natural duck eggs which are featured in some dishes. These dishes are always marked with an (e).
Most of our food is gluten free (except for our daily freshly baked sourdough bread). Foods containing gluten are marked with a (g). All of the cookies on the 'all day grazing' table are gluten free.
The only nuts we use are local candle nuts, peanuts and cashew nuts. We also use sesame seeds.
If you are concerned about your protein intake on a vegan diet, know that we use plenty of plant-based, protein-rich ingredients such as mung beans, peanuts, coconuts, avocados and cashews.
If needed, please express your dietary needs when you check in, and we'll make sure you are looked after during your stay.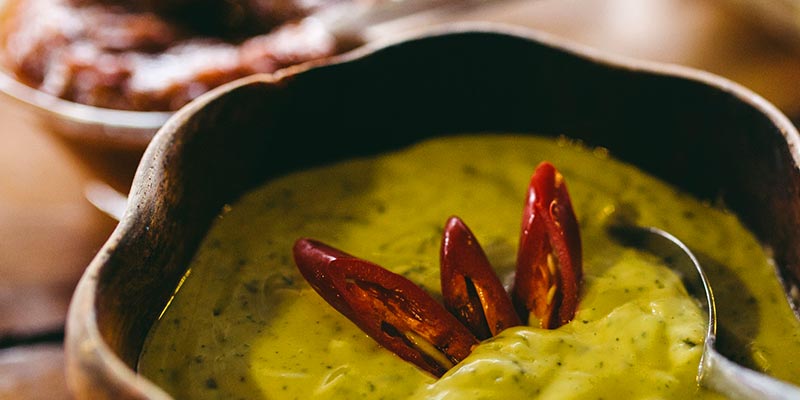 Once a week there's the opportunity to converge with our consulting chef and creator of New Earth cooking, diving deeper into the subject of food, sharing your viewpoints and learning from each other. Check the calendar on the programs page. The harvests of fruits and vegetables are grown organically with the love and affection of gardening and permaculture maniacs.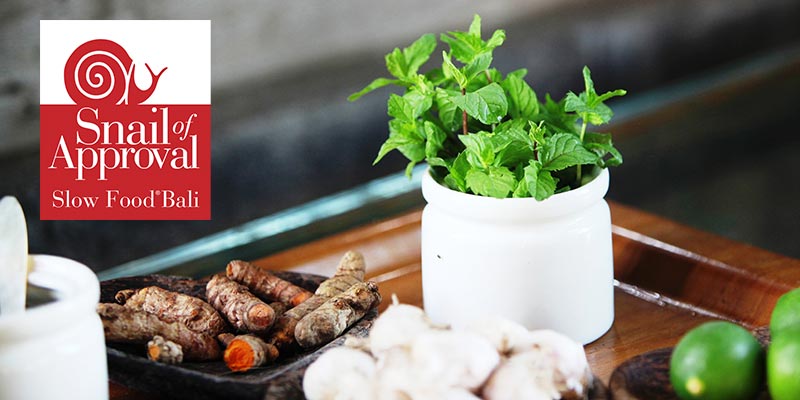 Yep, we're certified by the Slow food folks. Slow Food is a network of 100,000+ members in 153 countries who share a passion for an unhurried life starting at the dinner table. Slow food supports small scale farmers, artisans and restaurateurs who are linking the pleasure of good food with a commitment to their community and the environment.
Slow food envisions a world in which all people can access and enjoy food that is good for them, good for those who grow it, and good for the planet. Slow food awards their snail stamp of approval to those who contribute to the authenticity, sustainability and quality of our food supply. At Bali Silent Retreat we are proud to carry their stamp of approval. We are committed to exceed the requirements and continue to expand our support towards healthy, clean and delicious food for all.
Check out our short video on dozens of natural Balinese foods, we use everyday, directly from our semi-wild nature to you.
Our menus are balanced with the seasons, our gardens and the community. Balance is the key:
Studying the trail from soil to stomach to health.
Adapting the environment.
Opening for questions and improvement.
Crunchy and raw vibrancy followed by steamy creamy bowls of comfort, finished with a moment of sweetness. There's something satisfying to the taste buds any time of day. Since we prepare everything from scratch, we meet most special needs, including gluten free & dairy free and vegan.