Mount Agung is belching some ash and spitting out a bit  of  slow cold lava flow.   For airline schedules:  https://www.baliairport.com/flight-status-arrivals-departures/       For logistical updates and the Balinese perspectives, click here.
Saturday, March 17, 2018. This is Nyepi (Silent) Day, celebrated all over the island  of Bali each year. No outdoor activities are allowed including check in and check out from hotels. Even the airport is closed. The Nyepi (Silent) Day is a day of absolute silence throughout the island. The DAY BEFORE and AFTER, traffic is terrible and estimated travel time by car should be doubled.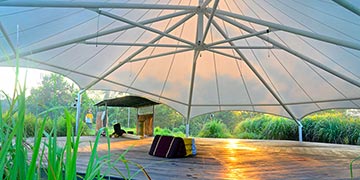 Every morning and afternoon we offer Yoga Asana and Meditation in our open air octagon tent (Bale) surrounded by the lush green of nature. Hot Springs and Butterfly Park Trips are scheduled daily.   Weekly events include talks about Balinese culture and our New Earth Cooking food philosophy. Every new and full moon we perform an Agnihotra healing fire ceremony. On your own you can explore the Labyrinth, Jungle Path, Library and much more. The Programs Calendar shows all activities included in your Overnight stay and/or Day Pass.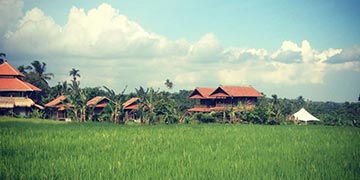 100% cotton linens, down comforters and kimonos – BSR is simplicity combined with luxury. Constructed of recycled timbers, indigenous architectures and local flavor the feeling is simple, warm, earthy, rustic, relaxing and friendly. Room choices include wooden bungalows, snug single rooms or dormitory beds with tasteful touches and stunning views (no air con – it's cool at night). The Programs are unprecedented and the Food is internationally acclaimed.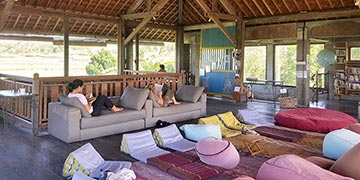 Bali Silent Retreat's vision is to maintain eco-green-to-the-extreme-off-the-grid standards while supporting the personal spiritual journey of each person in residence. Silence within a wifi-free environment allows for chat-free restful contemplation within a socially supported experience.
Silent does not always mean quiet! Frogs at night form a joyful chorus, ceremonies in the nearby villages involve music and chanting, and the birds make some of the strangest sounds!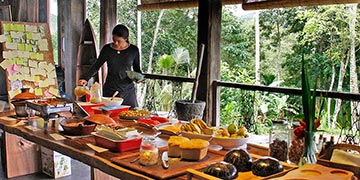 Three vegetarian buffets each day and an all-day grazing table (fresh fruits, cookies and herbal teas) our food is always bursting with living energy! Slow Food certified recipes are prepared by our Garden-to-Table chefs who pour their loving passion into every aspect of food – selecting vegetables fresh from our organic gardens to give you locally sourced and sustainable living food that has been made with love.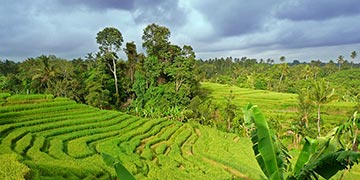 Bali Silent Retreat is located in the eco friendly regency of Tabanan. 1.5 hours Northwest of Ubud and 2-2.5 North of Denpasar airport by car. The airport is in Denpasar (airport code DPS), the Ngurah Rai airport. Our Transport Coordinator will email you within 24 hours after making your booking, to help with your transport needs.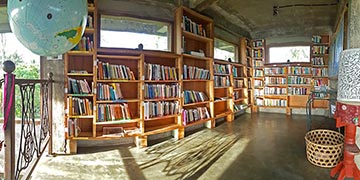 At Bali Silent Retreat we support all aspects of emerging consciousness. Part of our vision and mission is to facilitate the growing awakening of humanity and respect for our planet. (We are all in this together.) Here are links to like minded philosophies, locations, and commitments.
Every guest receives a book and pen. On the outside of the book is written, "For the Ancient Art of Pen Writing." Often, people experience a spiritual awakening here at Bali Silent Retreat and many say the energy is like heaven on earth. Some of their insights are worthy of sharing here.
Bali Silent Retreat is completely and totally sustainably responsible. We take pride in supporting local businesses and the community.
"The rice fields are amazing! The gardens are a beautiful meditation unto themselves. The helpful and smiling staff. The views! The Silence. The sounds of nature. But the one factor that will bring me back to Bali Silent Retreat is the heavenly feeling here on earth."
— Maartje, Holland