Our Seva volunteers (Seva means service . .  . we're all in service) volunteer 30 hours a week,  making various contributions such as teaching yoga, leading meditation classes, doing research, washing dishes, working in the gardens and adding to the spirit of the retreat.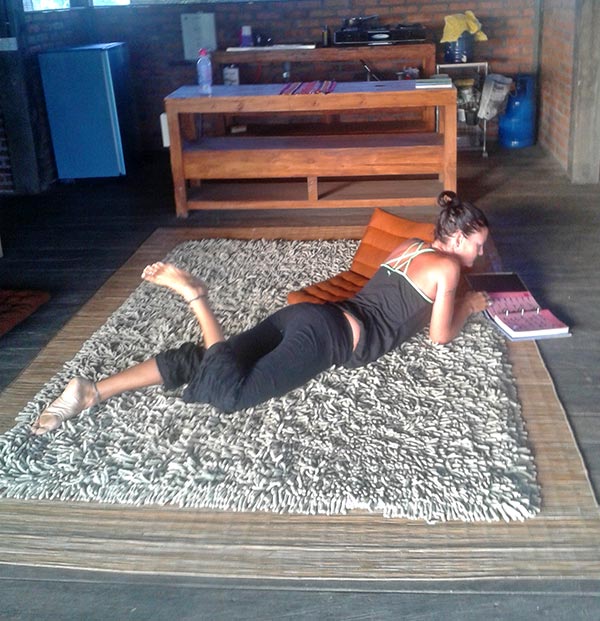 The rest of the time they go to the hot springs or hike the rice fields or meditate in the yoga bale or chill out at their volunteer home, like Karen is doing here.
Bali Silent Retreat is located at the end of a small village road near the base of Mt Batu Karu, offering breathtaking views , but also a great adventure and spiritual pilgrimage to climb to the top at 2.2km high. This mountain is revered in Balinese culture, as the beginning of water; sustainer of life.
Being part of the Seva team is a great way to offer service, to live in community, to learn new ways to lead a class of yoga or meditation and to see the sights of rural Bali. While you chill out you can ponder on your on journey of personal and spiritual development.
If  you're looking to offer service , to deepen your yoga or meditation practice and to gain more understanding of your spiritual journey we would love to hear from you – you can make enquiries at moreinfo@balisilentretreat.com
https://www.balisilentretreat.com/wp-content/uploads/2017/04/bali-silent-retreat-sukawati-karen-2.jpg
600
1200
balisilent
https://www.balisilentretreat.com/wp-content/uploads/2017/02/bali-silent-retreat-logo-1.png
balisilent
2013-10-20 02:18:08
2017-04-10 03:57:55
Volunteers chill out