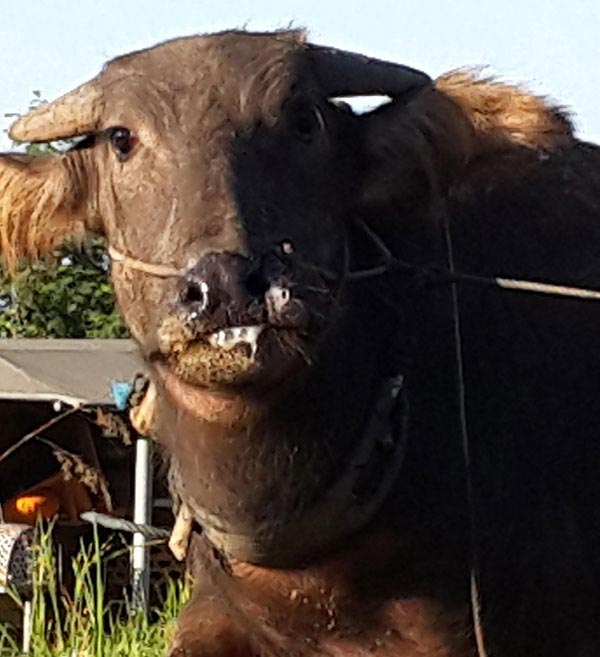 The end of the Water Buffalo era at Bali Silent Retreat
Bufy's new cow-palace is almost finished, complete with dining trough, sleeping space, exercize area, room for an additional Bovinian friend and even a mud spa. The floor is sloped for ease of collecting the most valuable composting materials (commonly called cow poop and pee by the gardeners.) The crew has collected old tin for the roof and cut down unused alang-alang to make it both aesthetically more viewable and also less noisy in a downpour.
The new cow palace is directly across from the Balinese Cultural Corner which will offer demonstrations of making offerings and writing history on the lontar, various tools etc. It's an old traditional lumbung style with that interesting roof in the shape of a catenary arch; a cottage-sized structure, hauled from the mountains of west Bali.
STOP!
Last week, Bufy has a personality flip, becomes rude, unfriendly, and a bit aggressive with way too much horn waving at humans. (Mind those horns!)
In walk 2 healing shamans from Ubud, one of whom is a well known, large hearted, animal lover who has rescued turtles, birds, dogs, and even a python or two over the years. She says, "Bufy is lonely! She needs friends. She doesn't like being alone." We had to stop and listen and ponder this truth. Over the past year, Bufy has wiggled (now that's a visual!!) her way free from her tether on a few occasions.
Did she go to the river? (She's a water buffalo; that would be the logical place for her to make a straight line for.)
Did she go visit her cow neighbors, some lovely young girl Balinese cows?
Did she go eat the vegetables or fresh grasses?
No , No, and No.
She went to morning yoga and meditation in the octagon. (What does downward dog look like for a buffalo, eh?)
She went to the men's dormitory. (Clearly she's of the age to be looking for a husband.)
She went crashing through fences and trees and jungle to get to her handlers – the garden crew.
At the end of the day we considered that Bufy is in fact lonely and frustrated and would like to be with us humans but those horns just cause problems. So we agreed with the animal intuitive shaman that Bufy being a social animal, needs to be with other Buffaloes. So, Bufy returns to her village to be with her friends. (Miss Big Butt in the photo is Bufy, ignoring her new friends and going immediately to the food.)
We've been given visitation privileges, whenever. Perhaps she'll learn some manners and a decent work ethic and come back to pull the plow some day.
Here are some  pics of her new friends in the buffalo village across the river. We love you Bufy and will come visit on on special holidays and when you have a baby!!!
https://www.balisilentretreat.com/wp-content/uploads/2017/04/Bufy-and-2-new-friends-w.jpg
400
800
balisilent
https://www.balisilentretreat.com/wp-content/uploads/2017/02/bali-silent-retreat-logo-1.png
balisilent
2015-09-18 06:52:11
2017-04-12 00:45:22
The End of the Bufy Era